Honeymoon: admire all the charm of the Orient in Marrakech
Between desert, beach and oasis, Morocco is one of the most beautiful romantic destinations in Africa. With its unsuspected beauty, this country promises outstanding stays and discoveries. At its heart are fabulous cities just waiting to be explored. If there's one address you absolutely must visit in this corner of the world, it's Marrakech. It is a first-choice destination for a honeymoon in Morocco. With its natural and cultural heritage, Marrakech has everything to captivate.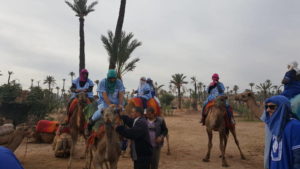 Discover Marrakech in all its grandeur on the Jemaa el-Fna square
Marrakech is a real playground for trekking and hiking enthusiasts. But not only that. This charming city presents itself as a real paradise for newlyweds looking for originality. Marrakech is an amazing city and to see this, just head to the place Jemaa el-Fna. This site is a famous public square located southwest of the Medina of Marrakech. If the lovebirds have decided to go through a travel agency, they will surely make a small jump on this place, since it is a tourist mecca of the city, if not of all Morocco. On this place, they will have to expect the most surprising discoveries. During the day, this site is full of monkey watchers and fire-eaters. It would be unlikely not to come out surprised by this unmissable place in Morocco.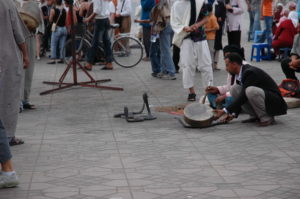 Falling under the spell of the secret garden during a trip to Marrakech
No matter where you visit in Marrakech, you can be sure that something spectacular is waiting for you. On the way to the Mouassine district, the newlyweds can make a shortstop in the famous secret garden. The origin of this work dates back to the time of the Saadian dynasty, more than four hundred years ago. It was rebuilt by an influential Atlas caïd in the middle of the 19th century. Let us recall that this garden was the residence of some political figures of Marrakech and also Morocco. In addition to getting to know this place, one can also come here to recharge one's batteries. We can also make a break in this place to appreciate its calm and why not drink tea.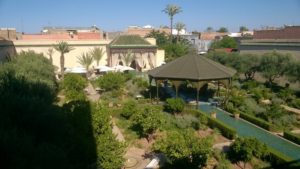 Surprise your taste buds with the culinary specialties of the country in Marrakech
In Marrakech, you can find a wide range of restaurants, from the most luxurious to the simplest. This city is a perfect destination to try the dishes that make Morocco famous. For example, on their honeymoon, lovers can try the mechoui. A true festive meal, this dish represents a whole culinary art in Marrakech. It is a dish composed of whole lamb or mutton, simmered over the embers of a wood fire. In the mouth, it is a real explosion of flavors. It would be quite difficult not to take another slice. On this honeymoon, it would be unthinkable to miss out on the delicious couscous. Customizable to your liking, this dish is simply a marvel.