At the foot of the Atlas Mountains, an elegant palace with a singular atmosphere is taking shape: Selman Marrakech. In this intimate and personal family property, travellers from all over the world share the joys, love and dreams of its passionate and warm hosts.
From the decoration signed by Jacques Garcia to the architecture of the buildings, it is the whole Moroccan art of living that is honored in this luxury establishment in the Ochre City. Within this timeless setting, every moment is magnified by the presence of sublime Arabian thoroughbreds, symbols of the greatness of a civilization, which are the soul of Selman Marrakech and invite you to the joy of living.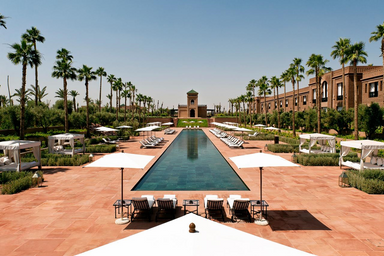 Lodging
For a long stay or a romantic getaway the Selman Marrakech offers the hospitality of 55 rooms and suites of great luxury as well as 5 private villas in an Arab-Moorish style symbolizing the quintessence of the Moroccan art of living. Bathed in soft light, the rooms and suites are extended by vast sunny terraces with spectacular views of the gardens, the sumptuous pool and the snow-covered peaks of the Atlas Mountains, while the villas have a garden and a private heated swimming pool with butler service.
Unique in their category, these true 5-star cocoons are the promise of a timeless interlude in a place vibrant with emotion and authenticity.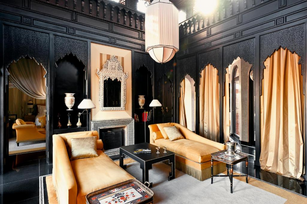 Catering
Through three restaurants and two bars imagined by Jacques Garcia as festive places combining the elegance of shapes, the subtle play of light and the colorful abundance of fabrics, Selman Marrakech offer a varied culinary experience, where everyone can enjoy a cuisine adapted to their desires of the moment. Enjoy breakfast in the heart of the lush gardens, have an open-air brunch while watching the thoroughbreds parade by, have a relaxed lunch on the terrace, nibble a gourmet snack by the pool or enjoy a traditional or international gastronomic dinner in a charming setting, there is no shortage of options to offer Selman Marrakech's guests moments of sharing and joy made of passion, know-how, culinary excellence and elegance.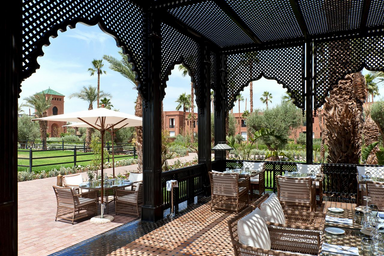 The SPA
A sumptuous 1200 m2 space set in a heated pool evoking the baths of ancient Istanbul, the Selman Marrakech spa invites you to live an exclusive health and beauty experience for a few hours or a few days by taking advantage of the benefits of the famous Chenot Method. Equipped with seven treatment rooms, four hydrotherapy cabins, a jet massage pool, two heated outdoor pools, two hammams, a fitness room and a boutique, this temple of well-being, unique in Morocco, is one of the six palaces in the world to host a Chenot Vitality Space.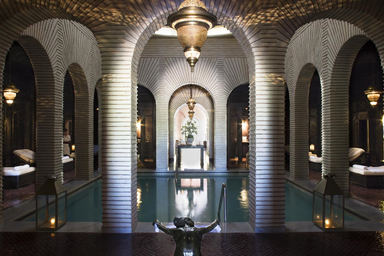 Arabian thoroughbred stud farm
While some palaces exhibit a private collection of works of art, Selman Marrakech offers to discover the most beautiful breed of horses in the world – the Arabian thoroughbred – a true living heritage of Morocco and its culture which is the soul of the hotel. Opposite the Andalusian Pavilion, the Selman Marrakech stud farm consists of two sumptuous stables, decorated like palaces in their own right by Jacques Garcia. Sixteen boxes house the private collection of Arabian thoroughbreds, some of which are prize-winning and titled, from the Selman Arabians breeding farm, elected best thoroughbred breeding farm in the kingdom since 2014. In the heart of the Spring Garden, five paddocks allow you to freely admire these among the most distinguished horses, which are characterized by their striking beauty and majestic gaits