Today we share with you the story of Nora and Stéphane, a mixed couple, married in Marrakech in August 2019.
Who are they?
Nora, with a Spanish mother and a Moroccan father, grew up in Morocco and then moved to Guadeloupe where she met Stéphane, of French origin.
Because of her origins, Nora suggested to Stéphane to celebrate their union in Marrakech, a very popular and easily accessible destination for all their guests coming from different countries.
The choice of venue
After several visits in the company of our team, the place selected was the Namaskar Palace. A well-known and recognized establishment, notably thanks to its endless stretches of water and its Hindu-Eastern architecture. This place has an accommodation capacity of more than 100 people and offers its own catering service for events.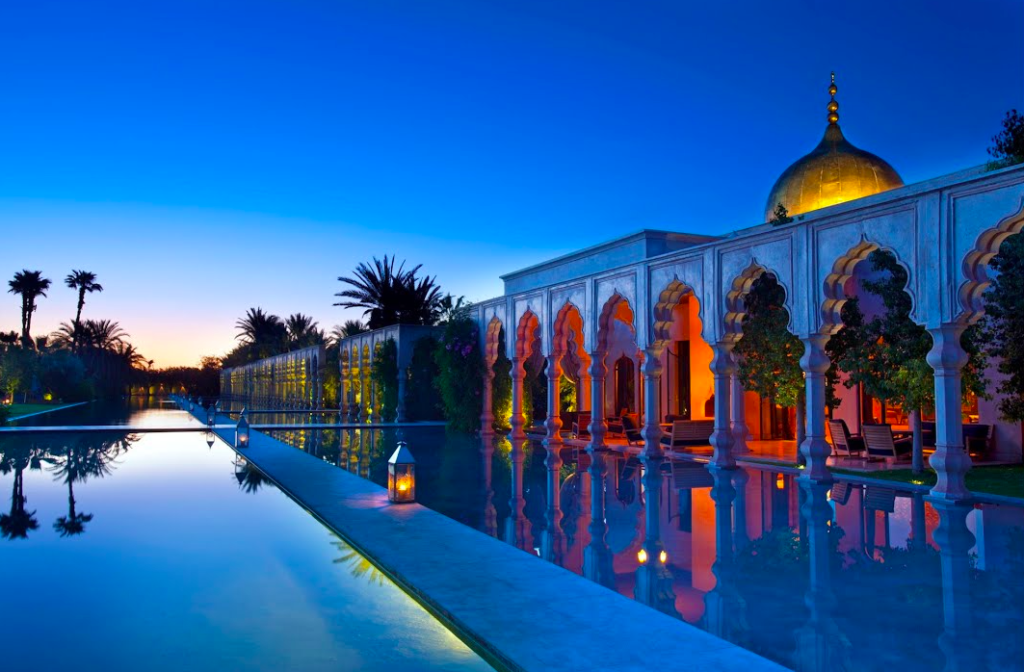 Preparations
Most of the preparations were therefore done remotely, through various emails and telephone points. All service providers were proposed in accordance with the bride and groom's expectations in order to combine the two cultures. For example, an oriental orchestra was chosen for the first part of the evening before a dj took over for the rest of the evening.
The research of the bride and groom was essentially based on simplicity, a refined decoration and an enhancement of the place.
The first evening
A first evening was held in the very heart of the Namaskar Palace, in one of its marvelous villas, the Water Palace. The objective of this evening was to propose a first reunion or meeting between all the guests in a very relaxed and unofficial way. Thus, we proposed to the bride and groom, a very oriental spirit with a meal in the form of a buffet.

The wedding
The wedding evening began with a symbolic ceremony, during which the bride and groom exchanged their respective vows and during which their friends and families were able to share messages of love and friendship. This ceremony took place on a green area near the hotel's beautiful water ponds.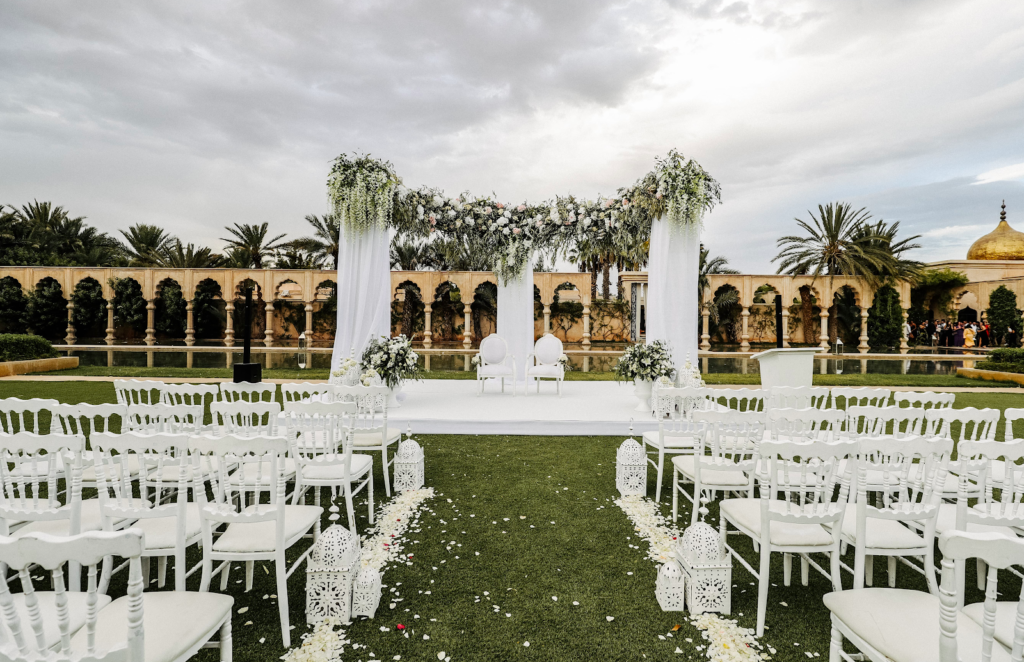 Guests were then guided to the gardens where they enjoyed a cocktail at sunset.
Meanwhile, the bride and groom were able to slip away with their photographer for a romantic photo session.

At the end of the cocktail party, all guests were invited to pass by the dining area near the main swimming pool and accompanied to find their tables, previously assigned by the bride and groom on the basis of a seating plan.
For her part, the bride took the opportunity to change and opted for a caftan – traditional Moroccan dress – for an entry on a palanquin as is the tradition.