Do you want to dream of a wonderful weekend in Marrakech for the happiest day of your life?
We propose you to give life to this fairy tale through this wedding ceremony that will surely delight you and your loved ones.
---
THE WELCOME EVENING
For your first evening in Marrakech, we offer you to make your guests discover the atmosphere of a real Moroccan evening.
Everything is there to reflect the thousand and one treasures of which Moroccan culture abounds, from the furniture to the music, including a traditional meal or a most atypical place in the middle of the Medina, or even in the desert.
You can also offer a simple welcome cocktail in a more neutral setting such as a nice hotel terrace, a restaurant with a more modern decor, or even in a pretty garden in the Palmeraie…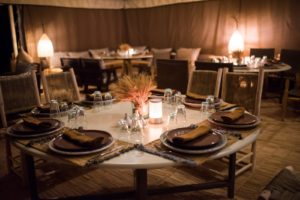 D-DAY
CEREMONY
Depending on the chosen location, a bridal canopy can be set up in the garden or on the pool for a secular religious ceremony or simply symbolic with an exchange of wedding rings.
The decoration is of course in perfect harmony with the theme of your wedding.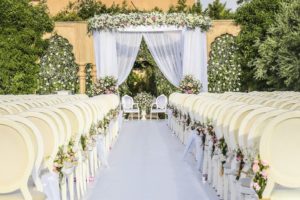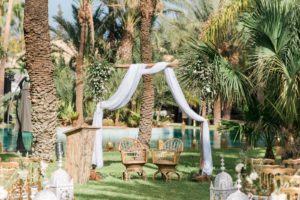 THE COCKTAIL
After the ceremony, your guests are invited to enjoy a cocktail which can be held either on a terrace or around a swimming pool, all facing the sunset.
It is at this moment that different types of canapés, appetizers, and/or an international buffet, show cooking stations… will be served. According to your choice.
Different types of musical animations will be proposed to you to animate this moment of conviviality pianist, jazz trio, solo singer, French variety, Moroccan traditional folklore, DJ, international orchestra, saxophonist…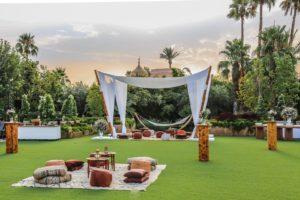 THE DINNER
The dinner, generally seated or buffet style, can be composed of a cuisine of your choice: traditional Moroccan, Moroccan revisited, European, Italian, international… You can also have different show cooking stations with different culinary workshops.
Fundamental element during a wedding, the floral decoration takes an essential place at each moment of the evening, and mainly on your tables.
For the enhancement of your general decoration, the art of the table is just as essential. Thus, are chosen a quality tableware, silky tablecloths, sparkling glasses, comfortable chairs but also accessories in accordance with your theme: lanterns, candles, …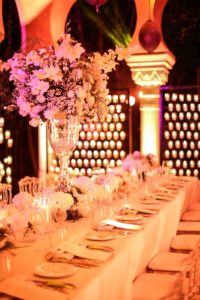 ANIMATIONS & ATMOSPHERES
What could be more essential at a wedding than the general atmosphere of your evening and the good mood of everyone?
To incite your guests to go on the dance floor but also to make them laugh, you can choose the tone you want to give to your wedding and which will be reflected through the decoration and lighting but you can also choose from a multitude of animations, each one more magical than the other, such as oriental dancers, acrobats, fire jugglers,…
THE NEXT DAY'S BRUNCH
Finally, meet your guests the day after your wedding for a relaxed brunch.
Usually starting at 11 am, the brunch can be done around the pool or in a new place to be discovered by your guests (Lake Takerkoust, Ourika valley, under Berber tents …).
This last afternoon will be for you the opportunity to relive each of these wonderful moments spent with your loved ones during this weekend.