This desert on the outskirts of Marrakech, you've probably heard about it or seen some pictures on social networks. It's the Agafay desert. A breathtaking landscape between ochre hues, snowy mountains and arid dunes as far as the eye can see. What better way to start the festivities of your wedding weekend than to transport your guests for a timeless evening? Only 30 minutes from downtown, take your guests on a journey through an environment worthy of a thousand and one nights.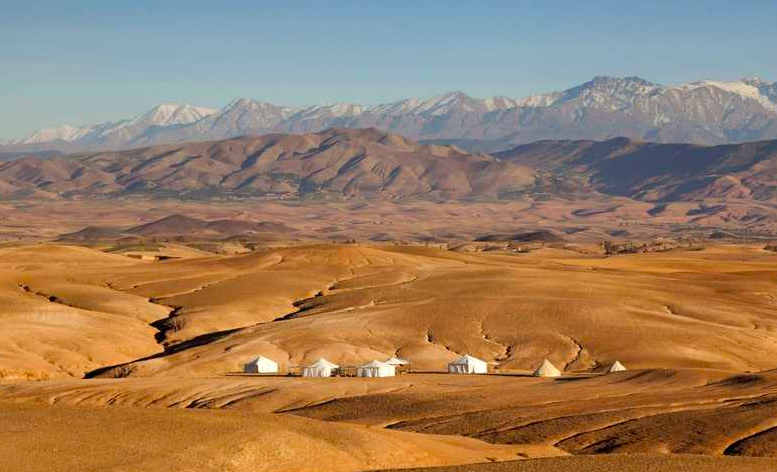 Why choose to spend an evening in the Agafay Desert?
This first evening can be considered from different angles. It is above all to gather your guests before the wedding to offer them a surprising first meeting. It can be a simple "sunset drink" so that they can enjoy the sunset in the middle of nowhere or a dinner in the Bedouin atmosphere. But, above all, it's about welcoming them to Morocco and enjoying all the local flavours and atmospheres that you are not really planning for your wedding.
The setting
The Agafay Desert now has several camps from which you can choose the one that inspires you the most and where you feel the most serene.
Your guests will arrive at the chosen camp one hour before sunset. On arrival, they will find themselves in the middle of the mountains of an arid desert with a perfect and unique natural light. They will discover shades of brown, orange, yellow and some barely visible oases. They will be transported to an environment where time seems to have stopped.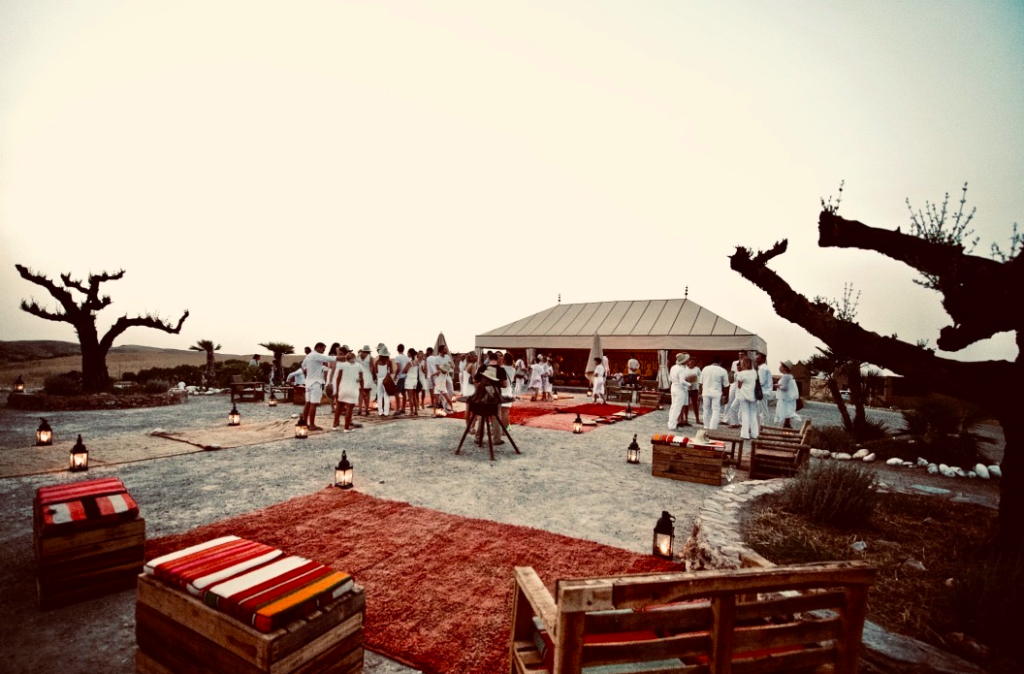 The atmosphere
During this first evening, you will be able to let your guests enjoy all the local visual and musical entertainment.
Begin with a warm welcome by a troupe of Berber singers with their beautiful and bewitching voices or by a troupe of gnawas. Continue with a trio of Arab-Andalusian musicians during the cocktail party and then move on to a delicate oud player during dinner.
All Moroccan specialties can be honored such as a henna tattooist, a snake charmer, a water carrier or a camel ride.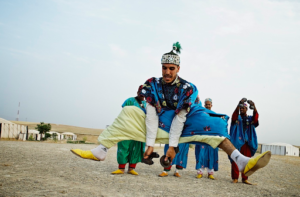 The food
You may not want to offer local specialties for your wedding, so why not serve them on the first night? Dig into the broad Moroccan culinary culture to complete the oriental ambience.
Choose a buffet or a family style service to share and let your guests immerse themselves in the refined and fragrant flavors: chicken tagine with lemon, beef tagine with prunes, tanjia marrakchia, couscous and so many other dishes will be suggested to you in order to perfectly delight the palates of all your guests.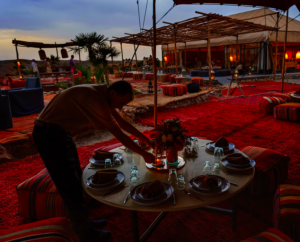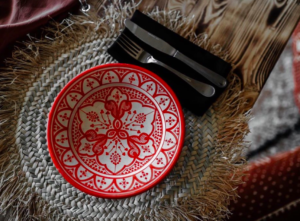 Photoshoot?
Why not take advantage of this magical place to make a photo session in complete privacy? You can arrive a few moments before your guests and let your photographer guide you for a session out of time.