Afternoon brunch has been in vogue for some time. It's a simple and effective way to continue the festivities with your loved ones before you return home.
In Marrakech the sun is present most of the time, so why not take advantage of this opportunity to bask in the sun around a swimming pool, to live a unique experience in the desert or brunching on the rooftops of the medina.
Here are a few ideas for brunch for a wedding day in Marrakech.
At the place of the reception:
If possible, you can organize your brunch the day after at the same place where your wedding reception took place. Most wedding venues in Marrakech have a swimming pool and a garden.
Taking advantage of your loved ones to close the weekend festivities in Marrakech in a relaxed pool party atmosphere can be a good idea.
Most caterers offer a brunch package for the day after weddings in Marrakech. From small salty or sweet canapés to barbecue stands, the choice is large and diverse.
In the desert:
The Agafay desert, 30 minutes from Marrakech, is an ideal place to end the weekend of festivities in beauty. This rocky expanse of several hectares will transport you out of time and make you live a unique experience is atypical.
Several camps have opened all over the desert and many of them have a swimming pool and offer several activities. A buggy or quad ride will delight the most adventurous, a camel ride in a Laurence d'Arabie atmosphere or simply enjoy a small massage with a view of the desert to relax.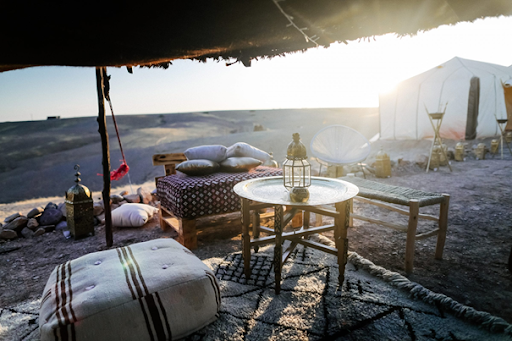 On the terraces of the medina:
The medina of Marrakech abounds in trendy terraces, with a breathtaking view, offering a brunch, the sun is most of the time at the rendezvous. The formulas for brunch are varied and can range from a simple late breakfast to a buffet with several choices.
It is an opportunity to be in the medina and do the last shopping in the souks before departure.