More and more brides and grooms are letting themselves be seduced by this commitment ceremony, which will set the tone for your wedding. Like religious weddings or places of worship often do their share of work in terms of decoration. In a secular wedding, it is up to you to create this atmosphere.
To immerse your guests in the atmosphere you have chosen, nothing beats decoration. It is therefore essential to prepare it carefully.
Here are the 3 essential elements for a successful secular ceremony.
1- The ark
A key element of your secular ceremony, for it is beside it that you will stand to say YES.
The arch can be round, rectangular, flowered or covered with veil and lace.
So let's start with the structure. As far as the material is concerned, wood is a safe bet.
So, whatever your theme is, all you have to do is decorate it with ribbons, a veil, or flowers. It's up to you to see what best suits the atmosphere you want to create during your ceremony in order to make your wedding ark a full-fledged object of your decoration.
You can also choose to use a natural element as the main element of your decoration. Very often it can be a tree that you can subtly dress up so that it is ready to host your ceremony.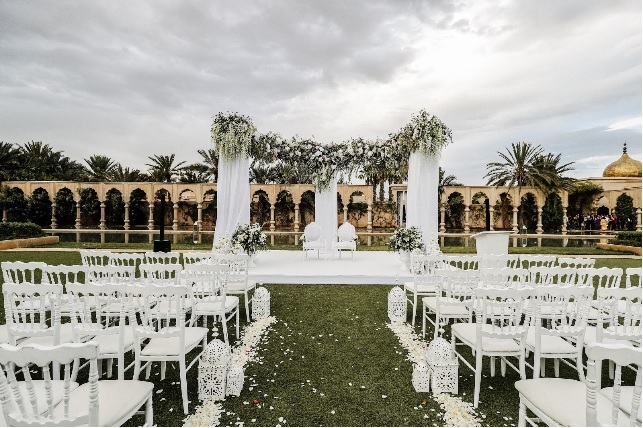 2- The seating 
For your wedding decoration to be perfect, don't neglect the chairs. Make sure they match your arch to create harmony in your decoration.
Whatever the type of seating you choose (chairs, bench, straw, etc…), remember to add a little touch, always according to your theme and colours!
Thus, if you choose straw benches, don't forget to cover them, on the one hand to personalize them, but also and above all for the comfort of your guests.
If you have opted for chairs, you can choose a seat in the colour of your choice, to give another dimension to your secular ceremony, or opt for a decoration on the backrests, with foliage or ribbons, flowers, burlap …
You can choose to decorate them all or just the chairs at the end of the aisle.
Sometimes it is not necessary to decorate every chair so as not to overload the ceremony site, and then if you have nice chairs, all the more reason to leave them naked.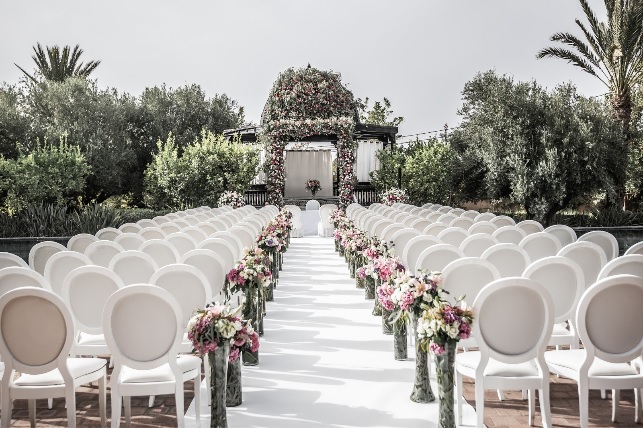 3- The alley
The aisle of your secular ceremony must be carefully worked on to make your entrance as beautiful as possible.
It is possible to adopt different styles. You can opt for a flower petal aisle. These could be scattered on the ground, or placed in such a way as to create a path. Although very traditional, it gives a romantic touch that never gets old.
The idea of putting up a carpet is also a possibility. Although being a very classic idea, it could bring colour and light. Indeed, if the place is dark, opt for a white carpet that will illuminate the space in question.
There are plenty of other ways to create a walkway. You can create one with hanging candles or bouquets of flowers. If there are trees where you intend to hold your ceremony, you can also decorate them. For example, with small lanterns or bouquets that you can hang. This will bring a decoration to the country spirit.